Send to Multiple Addresses in a Single Order
We make it easy to ship to all of your addresses - all in ONE order!

Did you know that you can send gifts to multiple individuals in a single order? We have two ways to do that!
1) Have a SMALLER list? (Less than 20) Order Online using our Multiple Address option (see below)
2) Have a LARGER list, or just need help? (More than 20) Email us at corporate@funkychunky.com and we'll take your list and do the rest
---
step 1: Add that amazing funky chunky to your cart
Are you thinking to yourself: "Oh, these Funky Chunky gifts would be so good for ALL of my friends and family!" Yeah, we hear that a lot.
Easy enough, put ALL of the items you want in your cart! You can add your gift messages right then (to keep track of who you're sending them to), or you can do it later at the Cart Page.
step 2: go to your cart to check out
When you're all done adding what you want to send to your cart, just click on the "Cart" button after adding your last item, or the Cart Icon at the upper right of the page!
*Pro Tip for larger address lists: If you have a LARGE list of addresses to enter, go to your account page by clicking the person icon in the upper right, and add your addresses to your account by clicking on the "Address Book" in the left menu PRIOR TO checking out! Once there, you can enter in each address or COPY from a spreadsheet by clicking the IMPORT ADDRESSES button!
This way you can just use the drop down to select an address versus entering it in there.

step 3: in your cart, Click on the "Ship to multiple addresses" button 
This is where the magic happens! Just click on the "Ship to Multiple Addresses" button...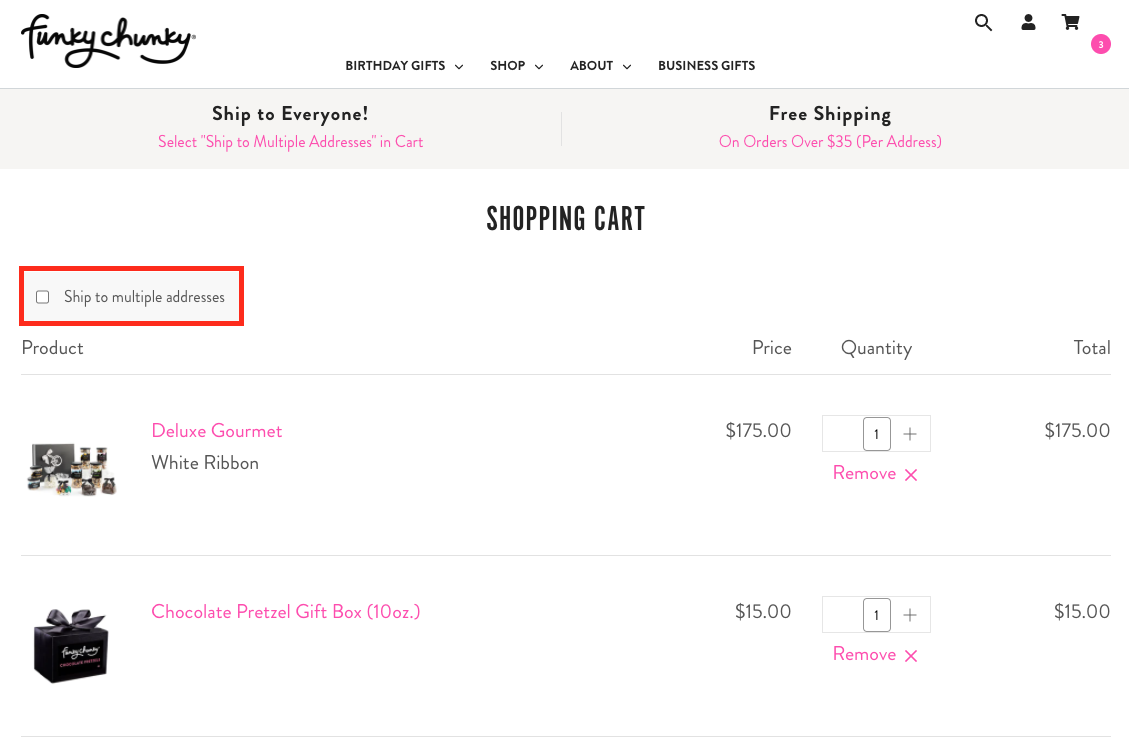 If you have more than one of the same gift, pick the quantity you want to send, the address you want to send it to (or enter in a new one), and don't forget to put your loving message that you want your gift recipient to read! We want to make sure they know it's from you!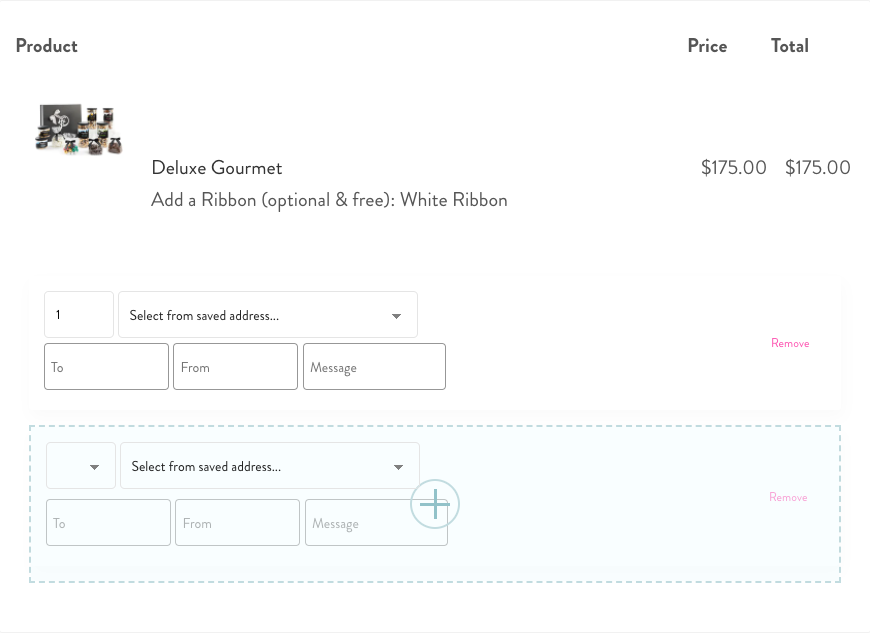 Once you're done, just click "Continue" at the bottom and complete your Check Out!
step 4: check out & prepare to be thanked
After you click "Continue," pick your shipping method (note that Free Shipping promotions apply to EACH address to qualify), add any promotional codes, and complete your check out!
*IMPORTANT NOTE: While you will receive a single order number upon completing checking out, your order will be split to NEW orders (one per address) to facilitate accurate shipping. In order to track each order, we recommend that you create an account so you can see the new order numbers, and utilize our Track Your Order tool. Otherwise, feel free to email us at info@funkychunky.com in order to get updates on your order status.
---
---
HAVE A REALLY BIG LIST? Email us your spreadsheet
---